Pat Lalor, Kilbeggan Organic Oats
2013 EIRGRID EURO – TOQUES FOOD AWARD WINNER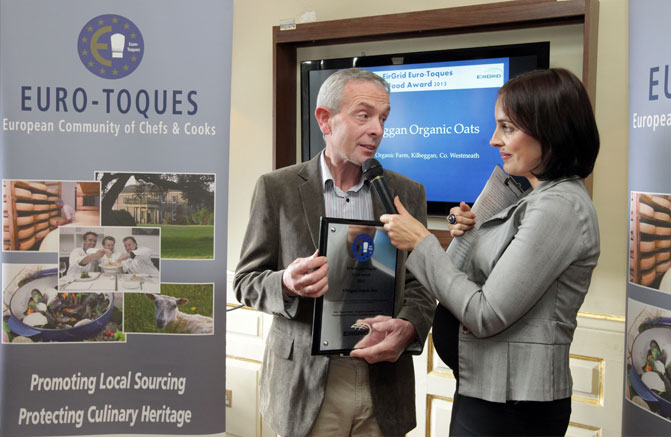 Pat Lalor converted his family farm near Kilbeggan, Co. Westmeath to organic is 1999 in order to "make more money". He became certified by the Organic Trust and the changeover did increase profitability on the farm but also inadvertently led Pat down the road of direct marketing and hugely increased satisfaction in his role as a farmer.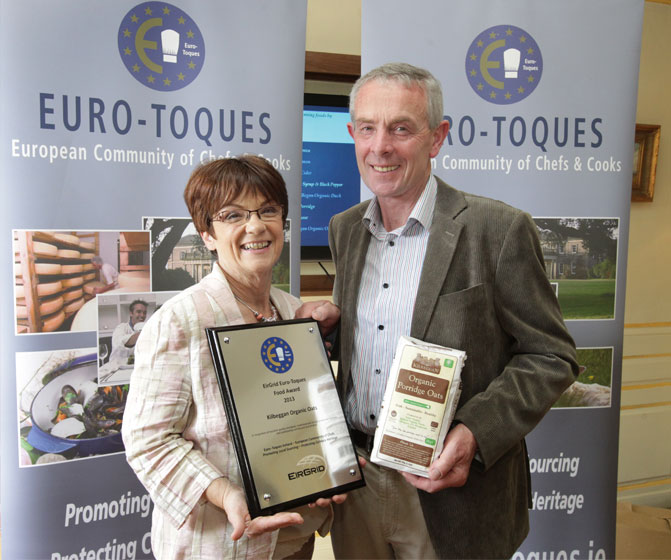 After the conversion, Pat brought 50% of his farm land into oat production. Realising the quality of his product and wanting it to be recognised as coming from his farm, in 2011 he took the bold step of his selling his porridge oats direct under his own brand. 'Kilbeggan Organic Foods' was born. He now produces 100 tonnes of porridge oats and 100% of these are sold direct under the Kilbeggan brand. While about 90% are sold within Ireland, his oats are now stocked in high end NY food store Dean & Deluca and Selfridges in London. Demand is far out-stripping supply and Pat says he could sell 4 times more if capacity was there to produce it. Euro-Toques chefs were hugely impressed by the quality and taste of Kilbeggan Porridge Oats, all of which Pat puts down to good stewardship of the soil, which is so essential to organic production. They also commended his innovation in bringing this traditional crop direct to market under his own farm brand.